As you'll recall, in 2012 I wrote about having White Christmases in Reno. People think that, since I'm in a desert, I don't see snow. Hell, ask people FROM Reno and they say it never snows and it's never a White Christmas. Well, at that time, 4 of the 6 years I'd been in Reno featured some white during the special day.
I suppose I need to define White Christmas again. To qualify as a White Christmas it must either a) feature some actual snow falling at some point during the day, at least a few flurries, or b) feature some snow existing on the ground at some point during the day. So let's break it down since then:
2007 – We had a little patch of snow in our lawn. Ash's folks' house (where we celebrated Christmas) had only a tiny patch where there was the remnants of a shovel-job. Pretty technical in its assertion as being a "white" Christmas.
2008 – We had a decent snowfall on Christmas itself – Ash's folks' backyard probably got 5? on Christmas itself. A TRUE white Christmas.
2009 – We had a big snowfall on 12/7 that year, but I'm not sure that any remained by Christmas.
2010 – We had our own tiny patch in the shade. Ash's folks had none. VERY technically a white Christmas.
2011 – No snow at all for basically the entire winter.
2012 – I thought this would be another technical white Christmas, as our both our front and back yards had a few patches here and there with snow and ice. But then in the evening it started snowing and we got a good two inches when all was said and done.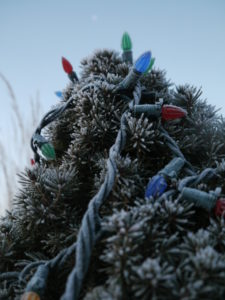 2013 – I'm not going to count this year, which is surprising because it featured something far cooler than snow. It featured pogonip. This was far from the best pogonip I've seen, it happened on X-mas. So I'll stick to my technical definition of White Christmas and disqualify this year, but it still stands out as being pretty cool.
2014 – While I won't pretend this was a record-breaking year, it did feature a little snow on the ground from a few days prior and a little light snowfall in the a.m. hours. Not what you'd see in a Hallmark movie for a White Christmas, but it counts nonetheless.
2015 – This was probably one of the better years for snowfall. We got a few inches the day of, as evident in this photo. I think this was the truest definition since 2008.
2016 – It looks, based on photographic evidence, which, after 40 years, is the only way I'm able remember anything, that we got a nice little dusting of fresh snow on Christmas morning. So far, it looks like we're debunking the crap out of this whole 'I live in a desert' thing.
2017 – So purists who believe White Christmases have to include fresh-fallen
snow would not include 2017 in their count. Hell, people who lived any lower in elevation than us would not count it either. But as you can clearly tell, there are patches of residual snow, so it's a *technical* success.
2018 – Oddly enough, those same purists *would* count 2018 since it snowed a pleasant dusting in the dark a.m. hours. Not enough to stick around throughout the day but enough to qualify it as a White Christmas.
So where does that put us? I've been in Reno for 12 Christmases and 9 of them have, by my definition, been white. Even if you were to strip the cheap "existing snow on the ground" provision, it's been half White Christmases. So when someone tells you they're moving to desert, don't believe them. I feel like I've gotten more White Christmases here than in Jersey, which was at exactly the same latitude.
Maybe I'll keep this series going in the future years.