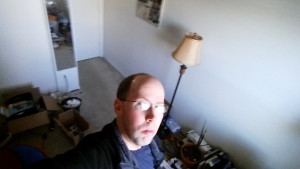 This appointment was definitely the middle child of appointments. I didn't get the freedom of the first child (my splint doesn't come out until my next visit on 2/9), and I didn't get coddled like the last child (I didn't even get my teeth brushed this time!) However, it was a pretty informative visit.
He took another X-ray that showed the changes in my airway. Before, the narrowest part of my airway was just more than 3mm (it's supposed to be 10-12mm). Now, the narrowest part was just over 7mm, with two other parts he measured being between 7-9mm. Nobody, including the surgeon, expected me to go from 3mm to 12mm. It's not realistic, no matter how much he reshuffled my jaws. So he was quite happy with this result, especially when you bear in mind that once the splint comes out, my lower jaw will actually go even further up to touch my upper teeth. That will cause a slight increase in the airway.
He was happy with how I looked, how wide I could open, my speech, just about everything. Then he asked me to try to jut my lower jaw out. I don't think I moved it even a nanometer. It was a weird feeling not really being able to move my jaw in a certain way when my brain was like, "hey, dumb jaw, I'm sending you some damn signals! Turn your ringer on!" It's good to have specific stuff to work on.
He then mentioned a procedure I could opt to undergo (after maybe 6 more months) that would increase my airway even a little more, though it's largely a cosmetic procedure. It would give me a chin, which I haven't had since I was a kid. Basically, he would make a lateral cut in my chin and pull out the jaw/chin about 5mm. This is attached to several muscles, which would in turn pull my airway open a little more. Plus, I would admittedly like my profile more.
This came with a # of caveats. First, he wants to see how I'll look in 6 months with (theoretically) no swelling and my face as it will basically look forever. I imagine he'll take more X-rays to gauge my airway width. Of course, this being a largely cosmetic procedure means I'll have to pay out of pocket, and while he could do it in his office (no hospital costs), it's no small chunk of change. I think the procedure will be too expensive to consider (at least this year). It's something to think about, though, and ask if there's a certain window where this procedure would need to be done during – can it wait 2 years? Food for thought.
After my appointment I had a couple of hours to kill before grabbing my son so I went and did something crazy, I played some disc golf. It was my first time touching a disc since November. I bumped into a guy I knew and told him I'd play, but he'd have to go pretty slow for me. I throw at around 60% power (anything more than that jarred my jaw a little) and played just the flat holes. I shot an even on a pretty easy layout with no real wind. Any other day I'd be pretty upset with that score, but yesterday it felt so good to just be out and active that I will say it was a phenomenal round, especially since I couldn't throw more than 250′.
I clocked over 8k steps yesterday, by far my most since the surgery. It wore me out, playing just 11 holes of pretty short golf, but today I don't have any repercussions other than a pretty sore pectoral (standard for my first day of throwing after any long layoff). I don't know when I'll be in tournament shape (certainly not anytime soon), but suffice to say I should be back sooner than I thought.
Oh, and today I had MAC AND CHEESE FOR LUNCH! That's apparently my threshold, less so for the chewing (it was pretty soft) and more so because I can't fit anything larger than a shell into my mouth right now.
PAIN: 1
INCONVENIENCE: 4
REGRET FACTOR: 1