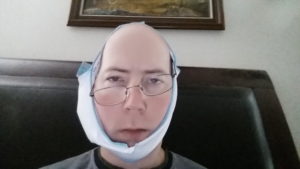 I have returned from the land down Under the Knife, and boy is my face tired. Boy, that's a sentence that just didn't know which joke to go for. Surprised I didn't try to throw a Bobby Darin joke in there just for bad measure. The picture you see is how I feel right now. When in pain, my glasses stop working.
The surgeon had said this was an "exploratory procedure", meaning it was surgery of sorts, but not anything near what I'd already had done. He started by putting an IV in with some special juice (probably Tang) to knock me out, which it did almost immediately. Then, while I was out (and theoretically relaxed), he first gave me the steroid injection, then pushed against my jaw for 5 minutes so none of the Tang anti-inflammatory escaped. Then, he inserted a pusher-opener (official medical term) into my mouth and forced my jaw open. Then he physically manipulated my jaws to try to get them out of their current predicament.
His assistant later told me that she was pretty excited "to hear a pop". I will, for the sake of my sanity, assume it was a good pop and not the rupturing of an eardrum or something like that.
When I awoke I was definitely a little loopy, and in considerably more pain than after the first surgery (the whole 'having all my nerves lose feeling' thing probably had something to do with it). So Ash drove me to the pharmacy, where I would wait an interminably long time for relief. Think of the sloth/DMV scene from Zootopia. Two Percocet later and I fell asleep almost immediately. After a brief 30 minute rest, I'm up and at 'em.
By "'em", I mean online poker and eating mushy pears and drinking a Boost. Just when I thought I'd put my Boost and jaw bra days behind me… Anyway, I'm not in much pain now but that'll come back. I also won't try doing much of anything with my jaw until Friday or Saturday (to be safe) when I should start trying to move it all around and open it wide to see how I'm doing. Then I'll be on soft foods (again) for maybe a week, hopefully no more. I go back in 3 weeks for an evaluation.
PAIN: 5 (.5 right now)

INCONVENIENCE: 2 (being home from work drops that # a few points)

REGRET FACTOR: 4