5/22
9:18am – Interesting start to the day. M&M and I were primed to go to one of the two Fort Meyers disc golf courses that we'd located. I wake up to find a note saying they've absconded with my car and are going to the doctor. Now see, if I were to choose, I would DEFINITELY pick a disc golf course over a doctor's office, but that's just me. Hopefully, it's not about the cases of sunburn we all received. But it very well could be.
3:27pm – After a little delay, we set out to find the Bay Oaks Disc Golf Course in Fort Meyers. We hit it and after only three holes, we were told that we aren't allowed to play during school hours since the kids don't want a driver to the face during recess. What's the matter with kids today? So we got out of there (I stupidly left my Wraith out there and it was gone when we came back) On the way home, we stopped at a putt-putt course, and played two rounds. I won the first round over Mitch n' Marsha by 1 stroke. Mitch whomped us the second round, with me playing lefty and Marsha not feeling well. Bravo.
Along the way, Marsha had help from a little friend.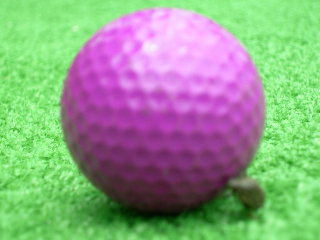 That little guy managed to push the ball a few inches toward the hole before Marsha moved the ball and took her stroke. It was pretty amazing. We're preparing ourselves for a lasagna dinner and then off to the casino tonight!
midnight – So something occurred to me as I was squandering some of the $95.95 that I would end up losing at the casino. And that thought was: "HEY! You don't like slot machines! Stop putting money in them!" When at a casino, I like table games: let it ride, blackjack, even roulette. This casino only had ONE table game: hold'em (which I like), but not tournament style (I like tournament style) So there was not time at which I was up any money. There was a time fairly late in the day when I was only down $30, and I should have cut my losses, but I get spiteful when I'm upset at my luck. So I squandered money that I don't particularly have in order to… I don't know, have something to bitch about when I got back to the computer. So I hope all three of you that read this heed my warning: slot machines suck. Hopefully back on the course tomorrow so I can do what I came down here to do – get more skin ailments. Let's see some stats (today/total)
Miles: 36.5 / 1650.2
Monies: -$101.95 / -$1,008.73
Courses played: ??? (we only played 3 holes, I don't think that counts)
Skin maladies: 3 (poison ivy, chigger bites, and sunburn)