6/6/06
6:22pm (local time) Happy Satan Day all! Haha, just a little morbid, end-of-the-world style humor for you there. No, it's more like Happy Coincidence Day, that's all. Nothing to do with the NUMBER OF THE BEAST. Nothing whatsoever.
That's a chilling start to a blog.
So away from the Haas' I go and end up pretty early in Indianapolis for the first new course, over at Brookside Park. I'm noticing a trend with these courses here in the midwest – they're all open with several large low-hanging trees scattered around. They first reminded me of the course at Daytona Beach, and now it seems like it's more the norm out here. I met up with two local ams named, and I'm not making this up, Fathead and Barry. I was gonna take a photo of these guys but I don't think they were the most photogenic people in the world. Cool as hell and very polite, but they made me look downright handsome. But that's neither here nor there. I shot an underimpressive -1 at a course with many birdie runs. My putting was WAY off for the nth day in a row. I swear, I gotta take a look into that when I get a free few years.


Hole 3. I didn't ace it. I didn't even birdie it. PUTTING!
From there, I need to go back a few years into story-telling mode. A good friend of mine, Jaclyn, went to school in Terra Haute IN and routinely ridiculed it as perhaps the worst place on Earth. Her disdain of that city has left an indelible mark on my life, as it has been made out to be the cesspools of all cesspools, boasting only a Wal-mart as it's only attraction (and, furthermore, its only social outlet). So knowing that Rt. 70 passes literally through the place, and there's a disc golf course in it, I had to see if she was right.
The course I was looking for was Deming Park. And the directions at pdga.com are wrong, or at the very least misleading. Here is a copy-and-paste from the website of their directions to Terra Haute's main course.
– From I-70
– take SR 46 north, to a left on Poplar, 2 miles to a right on Fruitridge. Over RR tracks to entrance on right. Pass tennis courts, next right to 1st tee
Those directions did not lead me to the course. I have a much more descriptive way to get to the course, and that is how I got there. Those directions are as follows:
From I-70
– Take SR 46N
– Notice that no road numbers have names. Assume that Rt. 42 is NOT Poplar, because it would say "Poplar".
– Take 46N to end. It T-stops at Rt. 40. Turn left. This *should* be Poplar, you assume.
– You see "Fruitridge" at a mile and a half, so your assumption has been validated. Make a R onto Fruitridge Ave.
– See RR tracks. Your assumption must now be correct.
– Once over train tracks, get to an immediate dead end. Get confused. Backtrack your steps.
– Try it again. It's still a dead end.
– Go back to 40N and try taking the street BEFORE Fruitridge. At a certain point, it inexplicably turns into "Fruitridge" again, though you were pretty sure it stopped about two blocks over from where you picked it up again.
– Cross train tracks. Look for park on right.
– Notice that there are no shortage of parks here, but all of them seem to be industrial parks.
– Cross another set of tracks. Keep scouring for park.
– Cross a third set. Take road to end. Make a U-turn.
– Start randomly taking side-streets that are vaguely near RR crossings.
– Get frustrated. You were ON THE BLOODY ROAD that the directions said.
– Finally, give up and concede that Jaclyn was correct and that Terra Haute just lied to your face.
– On the way back to Rt. 70, accidentally stumble upon Poplar Ave.
– Follow the PDGA's directions which lead you to hole 13, not 1.
– Play a round with two more ams.
I'm actually glad I got to play there, since it's another beautiful scenic course, albeit not that challenging. These guys used the course pars, and with those, I shot a -20, definitely my best round to date. Of course, playing par 3's, I only shot a -2, which is rather lousy, given the circumstances. But it's very encouraging to play with newbies, where my periodic 400 bombs are impressive, and the fact that I made 2 putts outside 30′ was downright inspirational.


Basket in the middle of the 3 centered trees. Of coures I deuce THAT!
This recent spree of playing has made me realize something. I don't do well in tournament NOT because I'm an inconsistent player, but because I don't make alot of my birdies. I have good, solid drives that will usually leave me outside the circle or near it. Or I'll get kicked around and not have much of a putt. I don't 5 much of anything, and not even too too many 4's. But I don't get my birdies, and that's what kills me. I mean, for four rounds of Grange, I only shot 7 birdies. And 3 rounds of Ashtabula, I only shot 9 (the first round alone was a BIRDIE FEST). I think it means I either need to step up my putting or stop dallyin' around the 30-50′ range and just put them under. Tangent.
After Deming Park, (and JayMar, here's another shoutout to you), I had to hit a little place in Illinois.


Who knew Jay Marshall was one of at least 3,800?
If it weren't on a main drag, I would have lined up the shot of me either a) hugging Marshall or b) taking a leak all over Marshall. But I felt weird with a random homeless man watching me with my digital camera faking urinating on a road sign. So this is what you get.
Now we go on to past St. Louis. After I make some sandwiches.
10:43pm – I'm not typically a sentimental guy, nor am I one that's easily wowed by landmarks and time-tested buildings of import. As such, many of my historical travels will be documented by pictures taken with my hand out of the car window while driving in excess of 60mph. Case in point: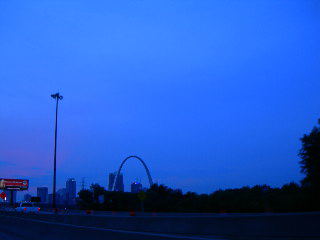 1/2 of the world's biggest McDonalds
After whizzing by that, it became the goal of the night to find a cheap hotel. I succeeded in that, only there were enough moths INSIDE the lobby to sway me from saving the extra few bucks. I went to a Budget Inn instead, where the price was decent, and aside from the fact that I have to pay a few extra bucks for internet, I'll cope. It's a nice bed and a shower. That's cost in and of itself.
Also found out yesterday that Mr. Bryan Fenkart has been getting himself some FM radio play. Anyone interested in seeing my boy slowly ascend the ranks of greatness, click here to see his website.
Lemme see some stats, me.
Miles: 568.1 / 4647.9
Money: -$110.47 / -$1,814.43
Rounds played: 2 / 30
Courses played: 2 / 17