We haven't given much of an update as to what's happening.  Well, we had our first pediatric visit, and all is well.  We had a number of concerns (because we're humans) but they are apparently all 'normal.'  In fact, Landen is progressing quite well.  He had lost only 6 oz from day one (which is good) and had already gained four of them back.  His slight jaundice seems to be staying stable if not going away, which is also super.  Since mama's milk is coming in (yes, expect TMI in the near future), Landen's bowels were in overdrive.  Again, nothing to worry about.  He's been peeing more too.  All in all, things are good.  Okay okay, fine, a picture.  Here's another one from the hospital that I don't know why I didn't post.
So precious it hurts!
As for the sleep, which is really the question everyone is asking, we can't really complain.  That's not to say we've had an uninterrupted night yet.  Far from it – Landen is a night owl for sure.  He sleeps most of the day and then is bouncy at night (which is common for a few weeks.)  He's pretty unruly from around midnight until about 6 am, but it's better than it seems.  We divy up the chores evenly, and since I go to bed late and she rises early, we're still managing about 3-5 hours of sleep a night, which I hear is well above average.  And naps, plenty of naps.
Even glasses need naps too
Ash's family has been clutch, making dinners and visiting often.  Family friends even get down and dirty with the diaper changes.  I know an awful lot of people who'll gladly hold him, play with him, and sing to him.  Not many who will change a poopy diaper.  We salute you.  Speaking of saluting, this one's for Doug.
Live long and poop, sir

We're gonna try our first bath today.  We probably should have done one sooner, but with him spending 90% of his time swaddled in a practically airtight wrap, dirt has a problem penetrating.  Add to that the fact that swaddling is one of my legitimate skills, and that we wipe him down with disinfectant wipes every nine minutes, I think it's okay.
Ash is doing really well.  She commented how she felt 'human' for the first time today.  Not to say 100%, but less pain, less swelling, less general girly bleh.  Mind you, 20 minutes of just cleaning up put her off her feet.  I'm extremely glad I have an uber-cool boss who's giving me time off.  I think she needs it more than anyone.
I leave you with a pic that makes me giggle every time I see it.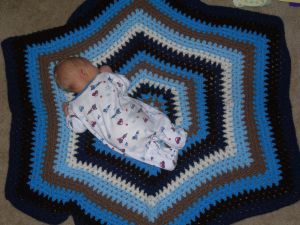 Landen's aim is impeccable, but alas, his parachute failed to open