5/19
10:04pm – It's been a long and fruitful day, and by fruitful, I mean ripe with cucumbers. I actually saw a small sign on a dirt patch which said "cucumbers" and I thought it was a very sad tombstone indeed. Those poor veggies never stood a chance. Anyway….
There was no ball golf today as the course was mobbed. That's fine as it allowed my father and I to go to Mac's Breakfast Anytime.


Macs – it's got a sign and everything
The south may be sketchy on their soda options, but man do they know their breakfast. Crisp bacon, scrumptious eggs shaken all to hell, and pancakes large enough to smother a small child. The price is right too. Apparently, they're part of a small chain. Go there – it's worth it.
From there, I saw the other sight West End NC boasts. Trees:


I imagine this is what Hell is like for disc golfers
Finally, it was time to escape from my father's to play some disc golf. I hiked up to Moncure NC to play Swingin' D.B.'s, which is a homemade private course. And why is it named Swingin'?


Hole 4 at Swingin' D.B.'s, looking at the actual fairway
All baskets are dangling from trees on zipline for easy mobility and ingenious use of various household stuff. This course is the apotheosis of tight fairways, as several holes sported gaps of less than five feet. It is not a long course, so even early wood allows a good chance to save par, but this is TRULY a difficult course. And I felt like I played the round of my life. Using a Buzzz on nearly every hole, I hit probably around 80% of my gaps with seeming ease. My putting was alright, and if it weren't for two circles (one which missed an ace by a foot and went long into the water, and another that cut-rolled over the road), the round would have been one of my best. I shot a +1, which was (to me) very gratifying. We were fortunate to have Chuck from NC as our personal tour guide, and many thanks (and kudos) go out to Chuck, Harold, and Mr. DB "It's Me" himself. Thanks, guys.
I played with my brother Doug, who is an intermediate, who also shot well. Here he is, moments before an angry outburst:


Good form for yet another Sonderfan
From there we jetted over to Sanford NC to play O.T. Sloan Park. It is an extremely easy (yet well laid-out and meticulously manicured) course about 20 minutes from DB's. I shot a disappointing Even (disappointing when you consider about 14 of the 18 holes are aceable, and certainly deucable). And here is the reason why I didn't do well: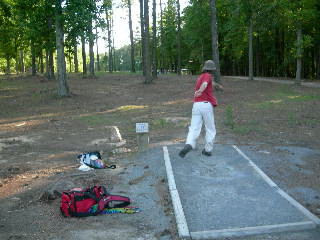 A great drive, kicked by a branch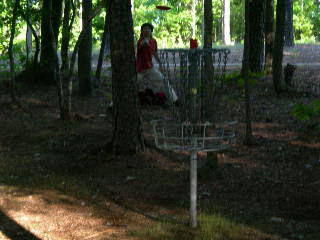 A lame putt, hitting the front of the basket
And we have arrived back at the Dad's house, having eaten a terrific steak dinner courtesy of the culinary expertise of my father and stepmother, Magda. They make quite the cookin' team. Quote my father about his cooking (really about everything): "I hope to kiss a duck's foot" I leave for Florida at around 7am. Lots of golf left to play.
Stats: (today / total)
Miles: 116.2 / 793.5
Financial Status: -$25 / -829.73
Courses played: 2/ 4
Rounds played: 2 / 4
Times heard the name Mitch from someone else: 193 / 200