I finally looked over the instructions I was supposed to be following after my procedure – good thing I had Ash before that helping me along. I am supposed to be on a soft-foods diet again for 7-10 days, as it could take about 5 days or more for the steroid injection to actually begin to work its magic. And I'm able to mix my percocet and ibuprofin if need be.
I probably should have looked these instructions over beforehand.
Anyway, as my title suggests I'm a little more alive today. Yesterday, we signed some house documents and just doing that (and walking around the building a few times because I was woefully under my step count) did tire me out a bit. Today, I was able to get up, drive D into school (L stayed home today because… weird school reasons), and even attempted to do a little packing, as we're supposed to be out of our house in 12 days. So yeah, gonna be an interesting time.
This morning I awoke to some jaw pain, but not as much as the two previous days (yesterday got bad at times). I have been taking Aleve pretty regularly just to keep inflammation down, haven't needed the painkillers yet. I will say just an hour or so of light packing has made me need to take a little rest, so I'm not exactly up-and-at-em yet. I imagine it would not have been fun had I had to sit in a chair and concentrate for 8 hours (it took me about 30 minutes to even get my head wrapped around writing this blog).
Eating has been weird. I did manage to eat some cheese-stuffed rigatoni things (I opted not to try the sausages) and it was about my upper max, but it's nice that I'm not stuck just eating yogurts and soups at least. But I am always sort of stuck between being hungry and having and upset stomach. It might be taking Aleve on a not-full stomach, or going back to drinking Boosts, or something else. But I tend to feel almost nauseous, which oddly tells me that I need to eat, so that feeling goes away. Damn my counter-intuitive stomach. I imagine this is a tiny slice of what pregnancy might feel like, only I will be over my weird stomach in a day or two, hopefully.
So it looks like I'll give it a couple more days of recovery before I start moving the ole jaw around, see how I'm actually coming along. Right now it FEELS like I can open my jaw even LESS than before, but that's largely because I'm scared to. Probably after the weekend, I'll be ready to do some jaw-juts (a name I made up, where I stick my lower jaw out) and some jaw-jukes (another name I'm making up right now, where I'll jigsaw my jaw back and forth), and some jaw-jigglers, where I put my jaw on top of Jell-o. The last one isn't a real exercise, but I think it would feel pretty soothing.
Here's my face, and also (coincidentally) me showing some Gavman pride. Have a great walk this weekend, Jaymar!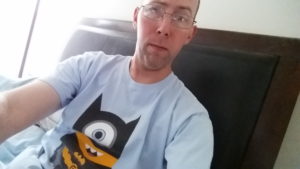 PAIN: 2
INCONVENIENCE: 4
REGRET FACTOR: 4