First off, it is October 5th and we have snow in our "backyard" (Mount Peavine directly to our south.)  Reno is a strange place meteorologically.
Speaking of the 5th, that means it's Landen's birthday – he is 9 months old today.  And he's every bit of that – he's quite the little man now.  He still doesn't crawl properly, but does the army crawl like it's nobody's business.  He crawls over legs, chairs… he is not afraid of anything.  And while stacking pillows up keeps most kids away from certain areas, Landen's smart enough to simply move the pillows aside and crawl through.  He'll even sometimes just crawl straight over them.  He's extremely intelligent and picks things up quickly.
For instance, he has started picking cheerios up off the table and putting them in his mouth.  That sounds pretty simple, but it's a monumental step for a baby.  Of course, now if we could just have him keep clothing and food straight (he tends to want to put his clothes/shoes in his mouth, and more food ends up on his body than down his digestive tract.)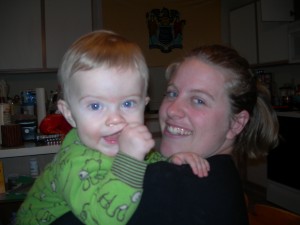 Happy baby with a happy mom
He is a very peculiar boy in a number of ways.  At Granny's place, he will sit with his basket of toys and can play for a half hour with them contentedly.  At our place, we give him toys and within a minute he is zooming off to another part of the house.  Even new toys or toys he hasn't seen in a while.  And what he does play with most?  Doors.  He'll crawl up to a door, particularly the guest bathroom door, and push the door closed.  Then he'll crawl to the closed part and open it back up full (after wriggling himself out of the way, which is usually his major issue – being in the way of the door he's trying to play with.)  He can do this a half dozen times before crawling off to do something else.  He also really likes drawers, cabinets – anything he can open and close really – as well as his ongoing love of instruction manuals, tags, and labels.
More playtime
Despite looking happy 90% of the time, he's been a bit crabby and fussy lately.  He hasn't eaten as much and he's been generally fidgety and irritable.  In feeling his gums, we think two more teeth might be popping up any day now on his lower jaw.  This happened the first time he popped two teeth out (we've still yet to get a good pic of the teeth, but that will hopefully come soon – especially now that we have batteries for our cameras.)  Either that or he might just be hitting another growth spurt.
He apparently isn't as scared of grass as I was at his age
Most people have asked about the house.  We are officially 10 days from the absolute deadline for our closing date, and we still don't know if this transaction is going to happen.  It's actually looking less and less likely with each passing day.  In short, the seller has been completely uncooperative and uncommunicative.  He was supposed to have had new appliances ordered about a week after we put in a bid (two months ago.)  To this date, there are no appliances in the house.  According to the seller's agent, he ordered them maybe a week or two ago and they've been shipped each time and had some defect in them.  I personally think it's BS (the fact that he changed the closing date from Oct 1 to Oct 15 was an indication that he hadn't even done half the things he promised to do.)
While it would blow to a) lose out on the $8000 tax credit and b) have been living out of boxes for the last month, we aren't bound to this.  And if I am not allowed to see the house this week, we're going to maybe make a significantly lowered offer or, barring that, simply walk away.  We're not happy, as the place was excellent, but the gloves need to come off at some point.
The realtor is supposed to swing by today and I have left a message to go with her.  We'll see if she takes me up on that.  Obviously, her commission rests on this, so she's going to do everything in her power to get this to happen.
Hopefully the next update will be a bit happier.