Here's a picture of a tree I like.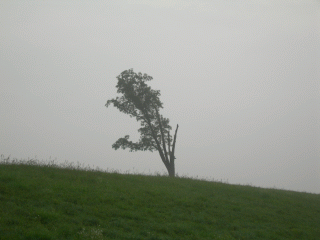 Now the disc golf recap.
And the tournament finished much in the same way it began: unimpressive. Round 3 was my favorite layout, and I proceeded to shoot a 61, worse than I'd done on that course in over two years. Absolutely nothing worked properly for me – my drives, ups, or putts. In fact, when I did get off a good drive (such as my consistently-good backhand roller), I would ended going PAST the basket and not giving myself anything to shoot at – a case of a drive being too good). It was abysmal. It was rated a 935, which is still incredibly generous, but it was a good 5 strokes worse than I had done last year.
Well out of cash possibilities, I wanted to just play round 4 without being a whiny bitch, something I had apolgetically become the previous round. And I start off with the miserable crap I'd been throwing the whole weekend. Tom "Dub" Kim gave me at least five "come ons" when I shot a terrible shot that was uncharacteristic of me (normally). At the last minute, I managed to snag three birdies and salvage a 59 on this layout (the same as last year), but it was at least respectable.
I learned a few things at this tournament, though:
- My most consistent shot is my backhand roller.
- Barry putted like a putz the round I played with him (he must have missed 5 easy putts) and yet he still shot only one off the course record. Why? He didn't miss a single drive. Not one. As much as I usually say my drives are the strength in my game, they're not. I probably "miss" about 25% of my drives by ALOT, and probably 40% by at least a little. I need consistancy with my drives, whether if I'm trying for a lot of distance or not.
- How well (or poorly) I do is still exactly proportional to how good my up game is, not how good my putt game is.
- A few people this tournament said I played to quickly or commented at how quickly I play (Mitch has also told me this). It got me to thinking – if I ALWAYS played bad, then I can blame the quick play. But when I play in twosomes casually or threesomes in tournaments, I usually play well at my quick pace. I think a problem is in larger tournaments where I have 5 in my group, there is alot of starting and stopping. And to just get up and play as fast as I do after sitting is not allowing me to even get past the rest period. When the pace of the tournament allows, I can play like I normally do. But I think for my mental game, I need to slow down when the whole pace is slowed down. I will try that soon.
- 5 birdies for 4 rounds will NEVER win you a tournament, especially if three of them come in the last six holes out of 72.
- The consistency I found while on tour has NOT carried over.
- My arm hurts.
Like I posted yesterday, when Jon sends me his handiwork, I'll display it here or link to where it can be accessed. He really is a wizard with the lens and button.