On Thursday we changed Landen's crib around so he's no longer trying to clamor over a rickety railing to get out.  He's had some trouble adjusting, and still isn't too sure what to do in the mornings.  But the first night was the most interesting.  I was out until after 8, so he was already in bed when I got there.  He looked adorable in the bed, so we snapped a picture (with flash – yes – we're jerks).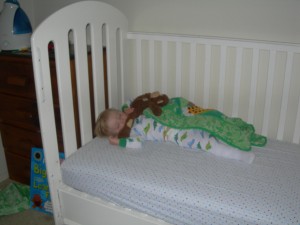 It appears as though he has draped his monkey over his mouth to protect from Monkeypox (just a theory).  In fact, a few months ago he was totally done with his monkey.  Did have any interest in him anymore.  Would throw him out of the crib.  But now that he doesn't have a guardrail, he almost always takes the monkey to bed (or, like last night, a little baby doll he has.)
Anyway, back to the story.  So I get home around 9 and that's what I see.  Landen all cute and sleeping.  Ash and I watch some TV and chat, and around 10:30 we decide to go to bed.  (10:30?  Really?)  So Ash checks in on him and quick motions for me to check on him.  This is what we found.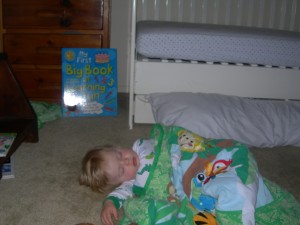 We didn't hear anything, so either a) he fell but landed on the pillow, b) sleepwalked over there, or c) woke up, got out of bed, laid on the floor, and fell back asleep.  We've subsequently ruled out A because he HAS fallen out of bed almost every night since then.  It's pretty sad to hear THUMP then a harsh cry.  But by the time he's walked back into the bed, he's already out.  He got heavy sleeping as a talent from his ole' dad.
Here's one more pic because all things come in 3s.
He was piling tons of blanks on top of Mom, so I was taking pictures as he re-started.  He got two blankets on her then just sort of "hugged" her without arms, and this was the result.  I still giggle when I look at it.