Well, where do I even begin on this recap? I suppose with the beginning. I got to the course extra early to get in some practice throws and to show Jon around (the photographer – see some his work here) Then I go to the meeting and see my card. I needed to snap a photo of it, since it may never happen again, or at least not for quite a while.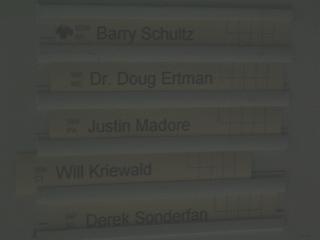 #1 in the world Barry Schultz and Fats on the same card
I started off tying him on the first two holes, which were two of the tougher ones, so I felt good. And it unravelled from there. I was missing my gaps, upping poorly, and putting badly, but would compensate with a SICK 60′ putt and great saves. The first round mercifully ended with me throwing a 61, which felt terrible. It ended up getting rated a 969 (more than 20 points better than my rating) so I can't complain. I can't help but feel it was just above mediocre, though.
Already 11 strokes off the leader, I'm now trying to save face. Then I basically dry-heave 18 straight holes in a row on the longest layout, the blue-to-blue layout. I ended up with a 71 (one worse than last year), but I have to be honest that it felt like the worst round I'd ever played. NOTHING went well, aside from a lucky save here and there. I later counted – my up shots costs me ELEVEN strokes. Seriously, 11 strokes. That is the difference between crap and best round ever. My backhand roller was going for me well, but that was it. And there are only so many places you can use that particular throw. Here's where things get weird, because this round was rated ABOVE MY RATING. That's right, because of how many good players were in this pool, somehow this brain hemhorrage of a round was considered "above average" That shows that the ratings system, although admirable, has glaring faults. Jon has plenty of good pics, and once I have them in my possession, they will be proudly displayed.
Up last was the player's party. One bottle of Pinot Grigio later (yes, you read that right), I felt a little better about my day. Everyone was there. See photographic evidence: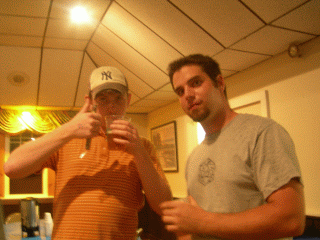 Mecca member Sean Healy and honorary member Mike Padham
It was at this point that I realized that, no matter what setting I seem to pick, my camera just sucks at indoor pictures. That point was really driven home here: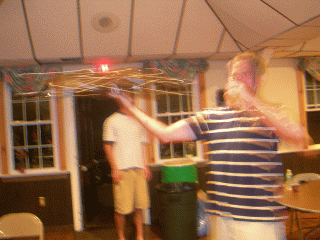 Ron Turner SPINNING A CHAIR on his finger while drinking a beer
And yes, that's the BETTER of the two pictures I took. The picture of me with three women is barely even recognizable, go figure. Anyway, bed was next and hopefully better days ahead.