You can really add "stravaganza" to any word, can't you?  Truckstravaganza!  Chex Mixstravaganza!  Mumpstravaganza!  Danzastravaganza!
Anyway, so our humble apartment had a problem lately.  Landen really enjoys getting into the wires we have around the house, and as any mediocre electrician can tell you, baby + current = bad.  This was one such area that was a definitive problem.
Because we continually pull him away from under the computer desk, he of course wants to go there even more to play with all the cool and not-at-all dangerous electricity.  So one morning, I wake up to see my genius wife had taken a very intelligent step that I clearly didn't have the mental capacity to figure out for myself.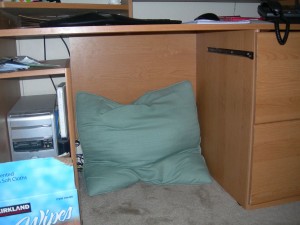 See, he knows enough to pull a pillow away when it's blocking his path, but when it's against a wall, he doesn't know that there is good stuff behind it.  So this worked great for a couple of days.  I'd be typing away at the computer, and he'd crawl under there, and I'd let him go because there's nothing bad he could do there.  That was until yesterday.  I'm typing and all the sudden I see a hand peeking out from the underside of the desk.  I pull back my chair to see this: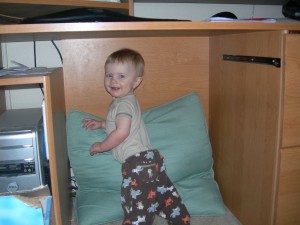 Earlier that morning, I saw that he had pulled himself to standing in his crib, but that was a familiar environment.  SURELY he can't do it anywhere he wants to.  Well, yes, he can.  And he does.  Alot now.  He is officially in the "uh oh" place where we need to keep an eye on him at all times.  Or else:
He gets into our checkbooks.
While his eating and sleeping habits are all wonky, I attribute that to him always wanting to try out his new skills.  He pulls himself up, yes, but he can also get off of couches and other high surfaces by letting his legs swing out first and dropping until he lands on his feet.  I don't know at what age you're supposed to be able to do that, but he can do it now.  He's also recently learned that banging on the dishwasher with his hand makes a very different sound than other things he can bang on, and banging on the dishwasher with the cabinet door makes a REALLY loud (and possibly not-at-all-good-for-the-dishwasher) sound.
He has taken to feeding himself, but only when I'm trying to feed him.  This morning, he must have put more than a dozen pieces of toast in his mouth, but only when I was trying to get him to eat his mushed aprimangorangebeets or whatever it was.  If I try to get him to eat toast, he will stick his entire hand in the bowl of rice cereal.  He definitely has a very unique personality, and he's incredibly fun to be around.  See him jamming on his sippy-guitar.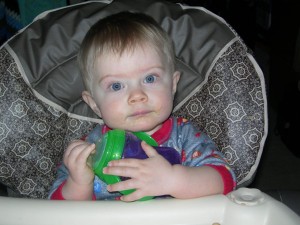 Baby Slash would be jealous
He still loves playing with doors, but now his big thing is to close them and then get very upset that he can't open them back up.  The day that he's tall enough to open door handles, watch out.  Make sure your checkbooks are kept in safes, that's all I got to say.
Because of being semi-packed for almost two months now, he hasn't had much room to play indoors.  So we have taken him across the parking lot to the playground while the weather was still warm enough.  It was his first time on the big boy playground.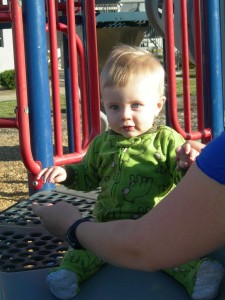 At the top of the slide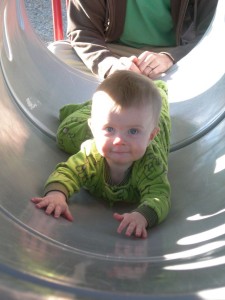 Perhaps confused by how gravity works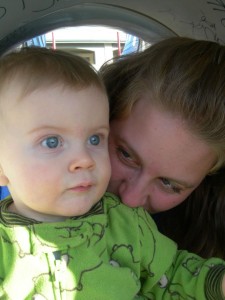 Startled that someone is apparently eating his shoulder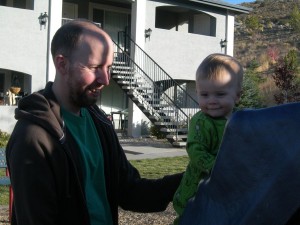 He does not share my fear of heights
The two most beautiful people I know.  One of whom appears to be surfing.