This is a disc golf post, but I will put a few pix of Landen at the end, to give the non DG-ers something to gander at.
The tournament had a new TD and a very small turnout, which was good – I only had to beat 5 other guys to win my first ever pro tourney.  You might remember at last year's Hula Bowl, there was a weak field and I snuck in last because someone else blew up and they paid deep.  I was trying to beat that.  Might be tough since I only played two rounds since July 13.
1st Round: All shorts – there were 18 birdie holes.  At least 9 would be considered "must deuces" in most courses.  Of course, I don't like this type of golf, especially when I haven't practiced.  Sure enough, I did not do well.  I missed a few easy putts, and a few others got lucky to go in.  In fact, I had a fair amount of luck countered by a little bad luck.  And I managed to come in with a -6.  Surprisingly, that only put me 4 off the lead (I swore we'd see a -12 or better, even with the diluted field.)  In short, I was all over the place and couldn't really get anything going.  I missed hole 7, the "easiest" hole on the course, and one I've only gotten ONCE in tournament play.  I hate pitch and putt golf.
2nd Round: In 4th out of six to start. The layout was a bit harder, but there were still about 14 or 15 birdie holes.  And this was one of the oddest rounds of my life.  I shot a -4 (three off the hot score.)  I had a few clunkers, but in general my drives were good.  The problem was, and I spent a lot of time dissecting this, the round can be broken down like this:
3 drives were under the basket
2 drives were within 20′ but had major obstacles in the way and I missed both (including a 12′ on hole 7 with a pine right front of my face and a tiny window to try to hit – again, I missed the "easiest" hole on the course).
9 drives were LITERALLY between 30′-40′ away.  That's half.  So the drives were certainly quite good, but that's outside my comfort zone.  I made one of the nine.
The rest were poor drives or at least outside 40′.
So it felt like a pretty solid round, but I only had four birdies to show for it.  No bogeys.
Round 3: The hardest layout (still at least 10 birdies out there.)  I was 5 off the lead, 3 off third place (last cash and a trophy) and 7 away from 5th.  This was a solid, if unspectactular round.  I shot -4 again, with one OB stroke (got caught in a tree.)  Four of my four birdies were less than 10′ away.  I only had to save a couple of pars.  Of course, I missed hole 7 again – so in 7 tournament rounds at Truckee, I've only birdied it once: the "easiest" hole on the course.  I knew it wouldn't be the hot round (-6 was) but I needed better than that to move up.
Or did I?  The dude who was beating me by three threw a -1, tying us for the tournament.  You know what that means.
PLAYOFF FOR THE TROPHY: I had put my discs in the car at the top of the course (we were celebrating at a pavilion at the bottom) and I didn't feel like getting it, so I borrowed a Wizard from someone and looked through my opponent's bag, seeing a disc or two I figured I could use.  Good enough, I was tired.
Hole 8: Easy birdie hole.  I used a roc and I threw it like a stingray.  Hyzered out, 50′ comebacker that I missed.  He had a 25′ that he missed.  Push.
Hole 9: 360′ open shot with OB left.  I take a Star Destroyer (thankfully, this is the only hole normally I would throw a non-champ disc, my pro destroyer.)  I heave it out and put it within 5′.  YEAH!  He puts it at around 20′ and makes the putt.  Push.
Hole 10: 300′ shot with trees right and OB left.  I was scared to throw a midrange that I didn't know what it would do, so I asked if he had anything really overstable.  He gives me an ESP Force.  Never threw one before, but I was thumbing so it didn't matter.  I put it within 5′ again, and he hyzered and was about 50′ away.  He missed.  I win my first playoff since 2004.
I would have bagged $135 if I were dishonest.  The TD (a first-timer) announced me as third.  I said "Don't forget Ox, he tied me."  She thought I just meant he needs recognition.  So she says it was a close match but gives me the envelope.  Ox, usually an advanced guy, had never cashed so he didn't know the playoff was just for the trophy.  So I split the cash and basically paid for my entry.
Imagine how good I could be if I played more than a dozen rounds a year.
And now, pics of my son.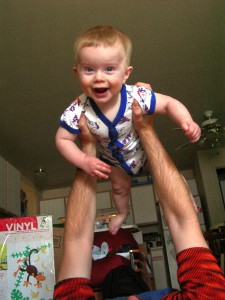 Enjoying flying with he new monkey decal in the background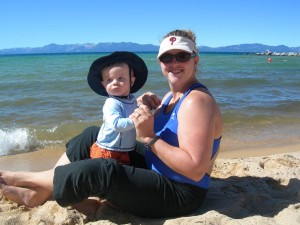 At Lake Tahoe with Mom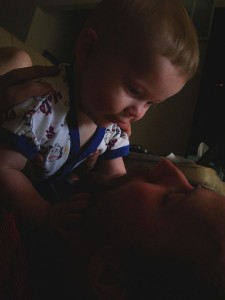 One of my favorite pics of all time