Planning is ugly, plain and simple, when you have a baby.  Because no matter how meticulously you do it, your baby will not give a lick and will continue to live on his own unmoveable schedule.  Landen is no exception.  Today, for instance, he has been awake pretty much straight for 8 hours, finally going to bed about 20 minutes ago (knocking on wood so hard it splinters.)  He has nights where he wakes only once from midnight until 8, and other nights where he's eating every 90 minutes (and has to sit up for 30 between them).  The only real consistent thing about him is his smile, and his progression.  Today, he lost the pacifier and was able to get it back into his mouth – that's the first time I've seen that happen.  He did it twice.  I squealed like a schoolgirl.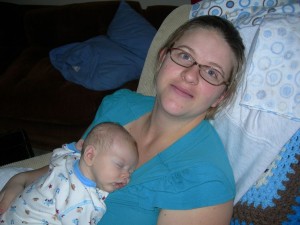 And trying to plan a weddingish and a trip back east for a week, and finances for the next year, and, well, planning the rest of our lives together… that's no picnic either.  Because deep down, past all the love and the inexplicable luck we've had in finding each other, Ashley and I are human beings.  And today I realized that all of those things that I read about in baby books about snapping at each other for household chores and the sleep depravation wreaking havoc being commonplace, and me always saying "We'll never be like that," are in those books for a reason.  It's sobering, but on the flip side, it's reassuring to know that we're not so unusual (except that we still like each other afterwards.)
On an unrelated note, a HUGE thank you to Jaymar and Jen for their generous gift – you should see the results of that as soon as I get off my lazy tuckus and figure out how to transfer movies.  You guys rock beyond comprehension.
Oh, and Ash?  You're doing great, mom.  Note, for some stupid reason, WordPress has changed (again) and I can't seem to do large-picture links, so clicking on these pix will not make them bigger.  Sorry.
Here's some obligatory cuteness.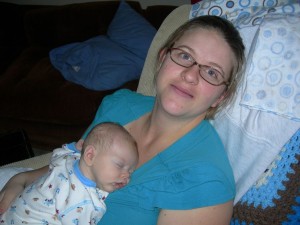 Mom being overly awake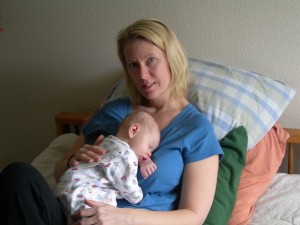 Landen and AUNT Tracy
And now the interesting sleeping positions he has tried out.