This is gonna be a long one.
We have a great kid.  No doubt.  And people say parenting is hard.  And it is.  But Landen has become particularly difficult in the last week or two, even above and beyond typical baby fussiness (according to our pediatrician.)  Since birth, he has had a total of three nights where he slept soundly (aside from feedings.)  Almost every night, he hits a period (usually around 10pm – 2am) where he is super cranky and often inconsolable.  This is likely colic, which, as many people, is not fun.  Here is a picture to offset the colic-talk.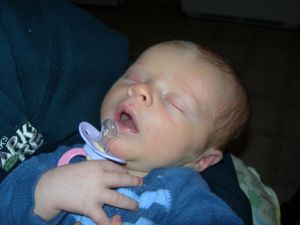 Sleeping, one of Landen's two moods
Aside from the colic, though, he is often inconsolable in the middle of the night (and other times during the day, but not as often), and we'd noticed he'd thrown up a few times.  The doctor thinks it could be acid reflux.  As Bryan put it, "Geez, Derek, how'd you give birth to a stressed-out baby?"  But he kinda is.  The steps to prevent this are 1) sleeping on a slight decline, 2) having him upright for 1/2 hour after each feeding, and 3) medicine.  In the past few days, he's been feeding every hour and a half.  Do the math there; we're not sleeping much.  Which bites the wank when I have to work 8 hours at 8am.  Thankfully, Ash's friend Erin came by last week to take some of the pressure off and do some of those 4am sit-ins.  Here are a couple of shots of her.  She rocks our proverbial socks.
She's the one who isn't 4 weeks old
But without an extra hand, it involves us getting up.  Which is especially hard for me.  The books I've read clearly state that the baby will be soothed more by the mom's voice.  It's true.  I have a very hard time calming him down when he's irate.  I try 100 different positions, and none of them seem to do much good.  Sometimes, I'll get him to calm down, but only for about 5 minutes, and then he's off again.  And when this is happening, Ash isn't getting any sleep either.  So we're both highly stressed, cranky, and pretty misreable.  We try to keep the smooches in there – it's a nice reminder.  In fact, we even took the first good photo of the family.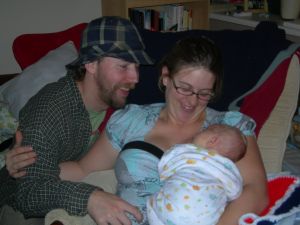 The soon-to-be Sonderfan Family
And it's not like he's never happy.  He is.  But perspective is the thing.  Ask a mother who has a 20 year old what he was like as a baby, and I doubt they'll remember these nights too much in particular.  They'll talk about his first steps or the fact that he hiccups like an Irishman at midnight (Landen does.)  But ask a parent who's had a cumulative sum of 10 hours of sleep during the week, and the answer won't be so good.  At least mine isn't.  Ash seems to have far more patience for this.  I don't know, I guess I'm just having trouble adjusting.  Perhaps here is why Ash is so more complacent: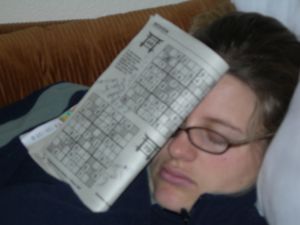 I've been informed Sudoku makes a good sunblock
I think if work weren't so busy this week, I wouldn't be so itchy.  We've been blasted, and it's actually going to get worse next week for me (my OTHER department's new quarter starts up, which doubles my workload.)  I feel like Jiffy talking about his job, now.  Fortunately, the good moments are making it totally worthwhile.  Ash and I can talk about things that we disagree on without throwing things at each other.  That's such a reassuring, welcome sign.  And I did get to spend some quality father/son playtime yesterday – I even took a video with my camera, hopefully Ash will upload that to Youtube soon.  You'll all squeal at his adorableness.  Here was a pic from that playtime.
His first smile-ish?
Eh, enough of my emo post.  Landen is doing just fine, despite some little snafus along the way.  But what child in the history of time didn't have these little issues?  Now, here's some people specific pictures.  Cromwell, this goes to show that my son doesn't have any bones either.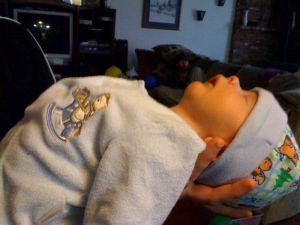 And Jaymar, you've gone on record a couple of times as calling my son "handsome" and even a future model.  Well, if this doesn't land him on a cover of GQ, nothing will.
Swoon, ladies, swoon!
Anyhow, this also said there will be a CONTEST!  That's right, it's CONTEST TIME!  I have a small prize in mind for this one, so it should be fun.  And it's a CAPTION contest!  Give the following picture your best caption and you will be nominated.  If you don't want to post it publicly, you can submit your caption by clicking here.  Anyway, here's the picture, enjoy!