January – Really, January was a blur.  At 12:15am on January 5th, I settled down for bed, only to have Ash's water break.  11 hours later, our super-awesome son let out his first cries and took his first nap.  For the rest of January, not much else happened.  Actually, it very well might have, only I was severly sleep deprived and don't remember much of my life at that point.  A rocket could have docked on my face and I doubt I'd have noticed.
February – Aside from the actual giving birth part, this month was identical to the first in that I don't remember it at all.  I do remember him being sick for much of it, and that was worrisome.  I was still in that "need to check on him in his sleep to make sure he's alive" unforunate part of parenting.  Ash might still be in it.  I have more faith in my son's ability to sleep now.  But then, it was different.  Tracy came to visit and see the little guy, and that was excellent.  She was the first family member to meet Landen.  He celebrated by pooping like normal.
March – Perhaps no one was more excited about Landen's birth than my mother, who has been waiting [impatiently, I may add] to be a grandmother since I can remember.  Probably since Doug hit high school, so it's been a while.  She finally got to see him in March, and unfortunately came down with an illness early into the trip.  She didn't really get to see him as much as everyone would have liked, but seeing her hold him was a pleasure.  I also had my first trip out east – I distinctly remembering thinking at the time that it will be nice to have a little sleep.  Yeah, that 'nice' phase lasted about 12 hours.  Then I missed him and Ash tremendously.  Not being able to see your little one for a week is a tough thing to do at 3 months.  I made it through, but I remember it being my hardest trip back east to date.
Monkey-licker
April – This was the month we realized watching over a newborn is a full-time job.  We realized this because we got into pretty heavy planning mode for the Weddingish.  Trying to raise a child while planning a wedding is not fun.  Don't do it.  This was also at the tail end of his acid-reflux sleeping, where he would be up nearly every night, and we had to hold him up after every meal for 30 minutes.  It was a stressful time in general, and I was getting more and more of my night panics, waking up, thinking Landen was smothering in the sheets.  THAT was something I never would have expected.  Also, in looking at my blogs from that time, it seems I played an AWFUL lot of games at that time.  That strikes me as the time when I really was longing for my "me-time" that I "missed out on" with Landen's birth.  I still don't feel that way, but I remember that being very strong at the time.  Thank God Ash was understanding of this and gave me some space.  She's the best wife [and mom] ever.
May – The big thing was the Weddingish, which was well-chronicled on this site already.  It went as perfectly as we could have hoped for.  I think most people need to stop with traditional weddings and have Weddingishes.  It's really the way to go.  But this is also the first month that I recall Landen really seeming like a person.  He was interacting, awake more, and just plain fun.  Still before any stranger-anxiety crept in, he was smiling 23 of the 24 hours.  We are truly lucky.  My entire family, sans mom, came and got to see everyone, but really they came for the cute one.  He was a hit with everyone.  Whenver our formal shots come in, we'll gladly share them with everyone.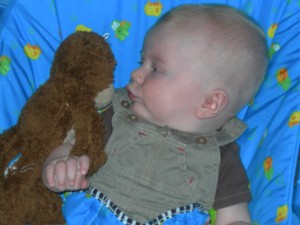 June – This marked us starting to get out and actually DO stuff as a couple.  While we did include Landen on some of it, I was finally able to play in some tournaments and Ash and I were able to escape and watch some minor league baseball.  With Ash working for the first time since Landen was born, we both had shortened time with Landen, so we did try to make the most of it by taking him to the pool once in a while and plenty of playing with Granny and Papa.  He was getting bigger by the minute.  Also at this time, we started our search for houses to buy.  With the economy being the way it was, it seemed like the perfect chance to take advantage.  More stress.  Joy.
July – I had my second trip to the East coast of the year.  I will say it was moderately easier than the first.  While I was okay being away from him for longer, he got SICK (and was in the hospital the first day I was there) – nothing is worse than the feeling of being totally helpless when your kid needs you.  I also felt terrible for Ash who had to bear the brunt of his illness with no support from me.  She is awesome, I think I mentioned that.  I had my "bachelor party" while out there, (yes, after the weddingish) which was a good time with some good friends, though marred by Landen's health worries.  More quality time outside was called for when I got back, as the weather had gotten quite nice, and not beastly hot if I remember.  Having a kid screws with your memory, that's for sure.
August – Another big month.  Landen seemed to really grow in August more than any other month.  Now crawling, smiling, interacting, playing, and eating like a fiend.  I did all I could to keep up with him, but I do remember taking naps in August.  Probably because the rest of the month was so busy.  Not only did we officially tie the knot in August, but the beginning of the house fiasco started then.  I think actually our offer was approved at the very end of July, but August was when we started to make conscious efforts to get ready for a move.  Then the dreaded waiting game started.  And that would last longer than we all thought.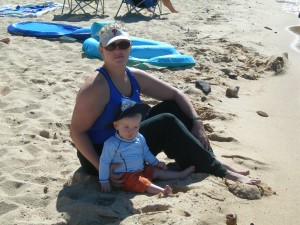 September – Another hard month.  With a second trip out east in two months, we made a very quick determination that I can't go east that often for work.  It's too much on Ash, who does try to maintain a life of her own.  Add to that Landen got sick again this month, and it was a very long month.  I had packed up much of the apartment before leaving for NY because we were supposed to move in on October 1 to our new house.  Here is also where the seeds were sown for October, which would be the worst month of the year.  But they say that it's darkest before the sun rises, right?
Landen's take on October and September
October – It sucked.  After tons of problems with the house and thinking at no fewer than 3 occasions that we would not be getting this house, and living in boxes for much of it, we couldn't get past October fast enough.  Landen's progress literally seemed to stall since he had no room to play, most of his toys packed, and it was too cold to go outside.  He did begin standing by the end of the month, but I think that was out of necessity because boxes were in his way everywhere he went.  Good riddance, October.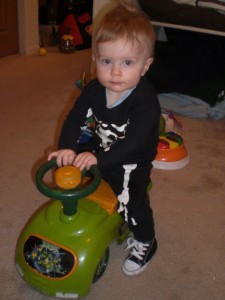 November – Finally, a month worth writing about.  On the 5th, we moved into our first house.  And by the end of the month, we had ALMOST fully moved in.  Landen had exploded in growth this month.  Beginning to use regular crawling much more than army crawling, and getting into EVERYTHING.  He is very curious and smart, that much is certain.  We got to have our first Thanksgiving as a family, though we spent it at the in-laws.  We still weren't quite unpacked enough to clutter up our place, I guess.  It was nice to have things slow down a bit.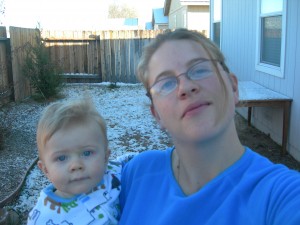 First snow at the first house in Landen's first year
December – Ahh, the present.  Landen is seriously the best kid ever.  He's been cranky, and the reason is simple – he's got FOUR teeth now, and his gums are still swollen so more may pop out at any time.  However, he's gained a whole new sense of independence.  He'll play on his own for a half hour at a time, and then crawl over to the piano (oh yeah, Ash rescued a REAL PIANO for me for Christmas!) and tinker for a bit, then go back to his new toys.  Everyone's been great with getting him fun and useful stuff, and he really has been playing with all of it.  Christmas was at our house, and the extended-portion of it was short and sweet.  Then we got to relax and revel in the first holiday season as a FAMILY.  It was a pretty great feeling.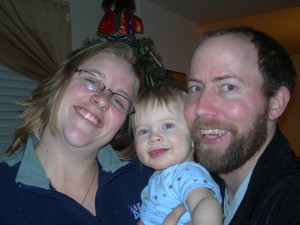 Extra Bonus:
The Best and Worst Albums of 2009.
1.  Free – Jim's Big Ego – Technically, this album came out in 2008, but I only heard about it this year.  This is, bar none, his best album.  And it's interesting – you can go to his website and download it FOR FREE.  He also offers plans where you can pay to get additional things, but I guess he wanted to see how it would sell.  I paid $.99 cents, partially because I have an album or two of his that are disappointing, and while I wanted to support, I didn't want to get hosed.  This album is fantastic.  From the opening "International", which is a great anthem, to the groovy and awkward "I [Don't Know How To] Party", to my favorite "Pascagoula Pawn & Gun" [which contains the best final verse of nearly any song], this is just a fantastic album.  Get it.
2.  The Fall – Norah Jones – I was at first quite disappointed by this album, mainly because the piano seems to have become a bastard instrument to Miss Jones.  She favors guitar and Wurlitzer on this album, and that immediately turned me off.  The first five songs also seemed to be the weakest on the album.  While I stand by that last sentence, the rest of the album has grown on me considerably.  It's probably a little behind "Not Too Late" in terms of albums, it has a number of very good tracks, like "Waiting", "December" and the closing track "Man of the Hour" which is not, as I'd thought, a cover of the Pearl Jam song.  Definitely worth a listen if you're a fan.
T3.  Life of the World to Come – The Mountain Goats – This one would be lower on my list if it weren't the Mountain Goats.  I suppose that means even a mediocre Mountain Goats song seems to be better than a good mainstream song.  I've noticed a trend with this band since they moved to the studio – every other album is great.  It's like Star Trek movies of music.  Tallahassee was revolutionary, …Healed was hit or miss, Sunset Tree was one of his best albums to date, Get Lonely was boring, Heretic Pride was thoroughly solid, and Life… is very bland.  He is making the transition to piano, which I normally encourage, but his piano playing is very monotonous.  And while I like some of his slow songs, when he puts an album consisting almost entirely of slow songs, I can't get into it.  There are a few good gems in it, but nothing that stands out in my mind.
T3.  Temple Bones Project – Temple Bones Project – This is my brother Doug's band.  At first glance, it might seem like I don't much care for this since it's 'tied' with the Mountain Goats album that was a letdown, but this has the opposite situation.  I didn't have many expectations for this, as I know their "band" is just some people screwing around with a didgeridoo and just learning how to use mixing software.  And it is just that.  But they've made some leaps since I first heard their original demos.  I can criticise the lack of melody, as they are primarily a percussive band, but the few tracks that feature a flute (notably "He Hides") are quite enjoyable.  This is rated well because I see potential here, particularly if they bring someone on board who knows music theory to sculpt their musicians.
DEAD LAST – Embryonic – The Flaming Lips – I have been a Lips fan since 1993, and even enjoyed their early OKC Garage days when their music was talentless guitar chords and bad singing.  I reveled in their experiments like Zaireeka, and patted myself on the back when they broke through critically with Soft Bulletin and Yoshimi.  At War With the Mystics had some incredibly interesting things in it, and I felt they did deserve the Grammy they received.  I had high expectations for this album.  And it sucks.  It is terrible.  I actually say this is the only album I have ever purchased that I will skip every track on it when it comes up on random, with one or two exceptions.  It is droning, obnoxious, seemingly recorded poorly (bass and bass drums all seem to crunch).  I've read reviews where they call it "revolutionary" and "genius" and I wonder who the hell can honestly say that.  If you hear the "hit" of the album, Convinced of the Hex, you've heard the other 18 tracks, as they all sound the same: monotonous and dour.  DO NOT BUY THIS ALBUM.  It is crap.